Testimonials
"Glynis designed our website for us and we couldn't be happier with it! Having little idea of where to begin ourselves, she handled every aspect of its production and continues to maintain it for us.
Her pricing is competitive, she is efficient and professional and her work is always of a very high quality. Where changes or updates need to be made to the site these are always done accurately and quickly.
We are extremely satisfied customers and would not hesitate to recommend her to others."
Nick and Sue Reeves
Nixbearz German Shepherd Dogs.
"I came across many web sites that you had made for other breeders and figured I'd give you a call to see why you might be different than any of the others. I am glad I did.
All of your promises were carried thoroughly and it has been an absolute pleasure to do business with you. I just wanted to let you know that you have a very satisfied customer, thanks again."
David G Banyard
Beinhard German Shepherd Dogs.
"Glynis designed and updates my web site in a very professional and efficient manner. I have had numerous comments in my guest book remarking on the quality of the wed site."
Carol McMurray
Carakris German Shepherd Dogs.
"Glynis has not only designed my website but has also produced for me, at very short notice, unusual and eye catching graphics for advertising my kennels in the dog press. I have had numerous telephone calls and email comments with regard to the magazine front page cover she designed and I am told they sold more copies that month than any other. Such is her professional approach that I have asked her to design my company website and business stationary knowing that it will be a job well done."
John Hugo
Turnberry German Shepherd Dogs/Supercom Consultants Pty Limited
"We absolutely love our website! It enhances our hobby by parading our dogs in a way we never thought possible outside the showring. We are forever receiving wonderful compliments from visitors to the site making us feel so very proud. Thank you Glynis for your creativity, efficiency, reliability and patience when dealing with someone with a complete lack of expertise.
Sue Belfield
Kassieger German Shepherd Dogs.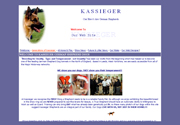 "Glynis set up my website about six years ago and has been maintaining it ever since. Any changes or additions are made very quickly and efficiently and advice given if I am not sure how it should look. That is always followed by an email for me to check it as soon as it is finished.
I could not ask for a better service.
Nikki Farley
Nikonis German Shepherd Dogs.